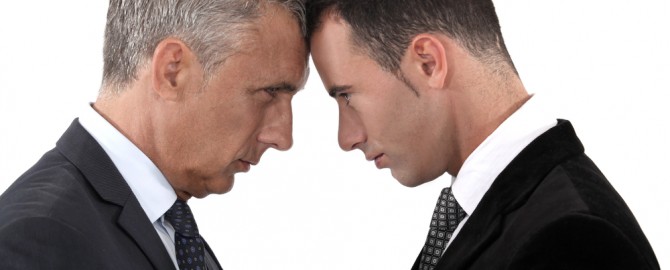 Have you ever wished you could go back to a previous job or workplace situation and do things over again using the knowledge and skill you've acquired since that time? I can think of several circumstances that I am much more prepared for now than I was in the moment. There are conversations I would have guided differently, concepts I would have used to solve a challenge, and attitudes that have evolved over the years that would have been much more beneficial.
Do-Over
Focusing on interpersonal do-overs, I imagine a few things come to mind. For me, there are 2-3 significant situations that I wish I could go back and re-do: a rivalry with a coworker when I was in sales; a time when I became so entrenched in a position that I couldn't hear others; and a missed opportunity to confidently present my idea to someone I allowed to intimidate me.
The study of emotional intelligence reminds us of the importance of knowing our own motivations & emotional triggers, and how to become more intentional about how we engage with those around us. Our attitude towards something drives our actions, so we have to use the right attitude and words if we are to optimize a situation.
Winston Churchill is credited with saying, "Attitude is a little thing that makes a big difference." Choosing the right attitude can change the outcome of a situation, and when it comes to those we spend so much time with in our workplaces, it's critical that we give thought to the best attitude that will move us toward positive results for ourselves and others.
Getting on the Same Side of the Stream
So, how do you view your coworkers as a whole? Certainly there are some you would call friends and others you would call rivals, even enemies. If you're competitive by nature, perhaps you would consider most of your coworkers "friendly rivals."
I am a word-nerd, meaning that I really enjoy studying word origins and meanings. Language and word choice are important, so I seek to understand how a word evolved and what that means to how it is used to communicate an idea. Rivalry (a person or thing competing with another for the same objective or for superiority in the same field of activity) is a deficit-based attitude that believes that resources are limited and only a few can win.
Rivalry comes from the Latin word for stream (rivus): rivalis means "a person using the same stream as another" or "on opposite sides of the stream." As neighbors vied for use of the limited resource of the water supply, the territorial arguments could become heated and may last for generations. In our contemporary workplaces we fight for budgetary support, strategic placement, favor from the boss, and any number of tangible and intangible resources.
But what if instead of rivals we take on the attitude of peers? A peer is an equal, someone of the same status, someone who is on the same side of the stream as we are, working side-by-side with us to achieve a common purpose.
I know it seems like a simplistic, utopian position to take. It sounds like "be nice, be positive, and you'll win." But there is more to it than that. The field of Positive Organizational Scholarship, which applies the concepts of positive psychology (what's working vs. what's broken), led by the University of Michigan's Center for Positive Organizations, provides some compelling research about attitudes and behaviors that lead to thriving organizations.
Toward Positive Organizations
In their article "Prosocial Motivation at Work: When, Why, and How Making a Difference Makes a Difference," Adam Grant and Justin Berg  define prosocial motivation as "an employee's tendency to care about benefiting other." When we view our colleagues as peers, we are motivated to help them achieve their own success. Research shows that as we help others, our own productivity rises and we are more engaged in the collective success of our peers (or at least a chosen few).
The research from the Center for Positive Organizations is slowly making its way into mainstream business dialogue. For those more academically inclined, and who don't mind carrying around a book that's 3-4 inches thick, the Oxford Handbook of Positive Organizational Scholarship is an excellent resource. There are also many articles and more "pop-business" books on various aspects of positive organizations.
Our workplaces are complex social structures, with multifaceted layers of social and relational dynamics making it difficult to navigate. The sense of urgency within mot organizations leads toward an expeditious (decide now, justify and think through the details later) culture. This alone can foster rivalry between colleagues and business units.
Choosing to see coworkers as peers rather than rivals creates a mindset that leads to cooperation, creativity, and collaboration. The synergies and partnerships that are formed through a peer-based mindset take energy that would normally go to competitiveness and territory-protecting behaviors and funnels it into something much more positive.
Evaluate Work Relationships
Make a list of the people you interact with most in your organization. Make a column for "rival" and another for "peer." As you go down the list and check which of those relationships are peer-based and which ones are rivalry-based, think about what drives the competition in your rivalries. Jealousy? Limited resources? Personality?
How could you see your rivals as peers? What attitude adjustment would create a more collegial mindset and foster a "same side of the stream" approach to working with those people?